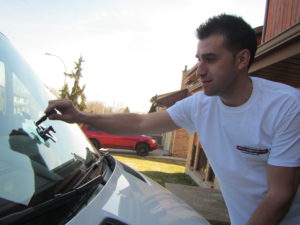 Need a windshield repair? When the integrity of a windshield is compromised by a chip or a small crack, the affected area weakens. As a result, larger furrows can easily form due to a change in temperature, intense cold, or vehicle movements. Besides, the weakening of the windshield can be very dangerous in case of an accident. This is because you no longer benefit from the optimal protection of healthy glass!
In fact, a simple chip or a small crack is easy and inexpensive to repair. On the other hand, this is different for a large crack that extends across the entire windshield: do not wait until a windshield replacement is your only option.
To sum up…
At Brillexperts you can have your windshield repair efficiently done at the lowest cost while abiding by the highest quality and safety standards. Finally, once repairs have been made, your windshield will regain its original strength providing you once again with complete protection.
Any Type of Vehicle
We make the claim with your insurance.